I've been quite busy working and making but I realised that I've been a bit bad at updating recently, so thought I would post a few snippets up to get myself back into it.
A design that'll be made at some point:
I found a piece of steel that didn't have a goal in mind so started sketching on it. It's not a style I've tried before but after showing it round, it seems to be liked so I'll definitely be making it. The handle materials are undecided at this stage but possibly a Nickle Silver or Copper bolster and maybe pure black Ebony or a green dyed wood for the handle.
Next, a blade I've shown before that has been slowly shaped when I've had a minute here or there to fill.
I'm really not sure on the handle at the moment - this is the first sketch but I don't think it's quite right! I may have to thin the tang some more to give myself some more options.
This is a design on a big lump of D2 that I was given. It's going to be a beast of a knife!! The design is strongly influenced from a knife by Chris Claycomb.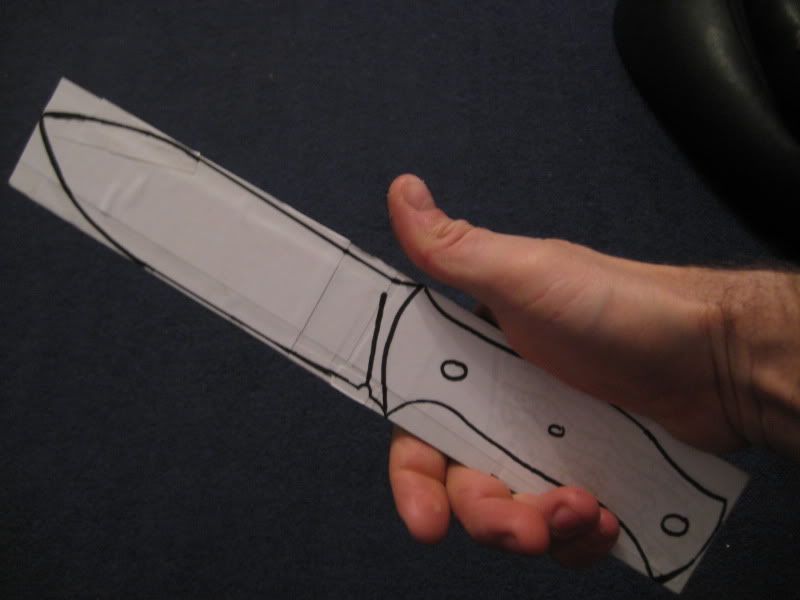 Finally, I just received this Spyderco Mule (52100 steel) today. The plan is to remove the handles that are on there and do a contoured handle out of Orange G10 and Carbon Fibre, in the same way as I did the PSK knife previously.
I have boiled the knife already this evening, so as to break down the epoxy. I need to drill out the handle bolts though as they are corby bolts so have a step, holding the handle onto the knife.